Sex in the toilet.
I made an appointment with my partner for dinner at a restaurant near my work. I could afford an hour break, and he also had a moment of respite. From the morning I was in a bad mood and I wanted to somehow improve my mood. Marcel was somehow not talkative. We ordered dinner and looked towards the kitchen door. A waiter showed up with our dinner. We ate practically without words, I was wondering for what purpose we made an appointment, if it is what it is. Without waiting any longer, I took his hand and we headed towards the toilet.
We locked ourselves in the toilet, I started kissing him passionately. I put my hands under his shirt. I felt his lips against my neck. I walked away for a moment, then unbuttoned his pants. He was very horny, I saw a swollen cock. I wanted to put it in my pussy immediately, but didn't. I slipped his briefs off and started to play with his protruding cock with my hand. A moment later I crouched down, licked him lightly, it looked like I had cost something. His stick was very tasty. I licked the tip itself, felt it getting even harder.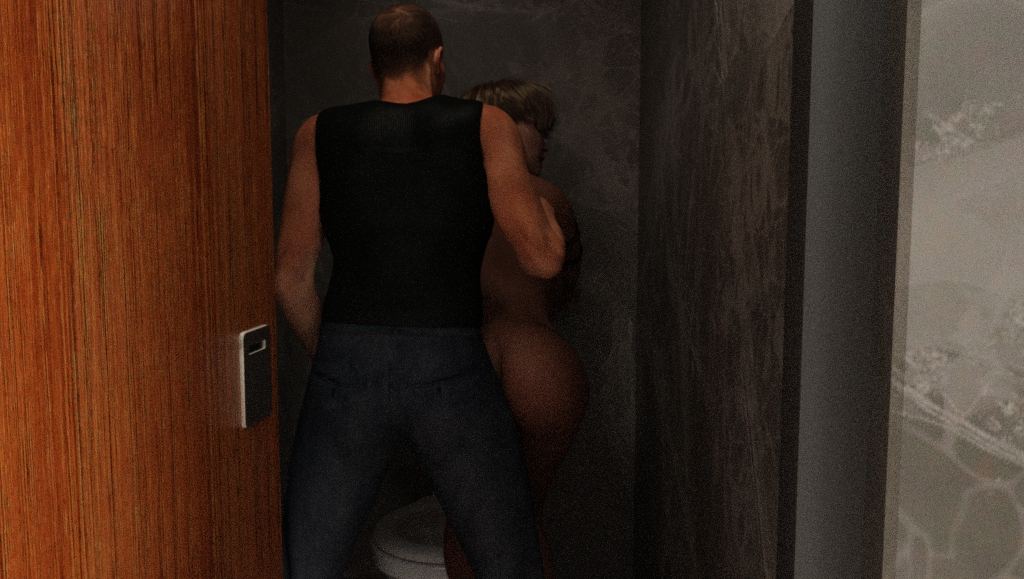 I gently slipped it into my mouth. I didn't put it in deep, I wanted to feel it and play with it as long as possible despite the fact that we were in the toilet. I felt his hand on my head, he pressed me against him. I slipped it deeper, then even deeper. I was pushing it in and out at an ever faster pace. I was massaging his testicles with my hand. I pulled out his horny cock and licked his balls thoroughly.
The moment I wanted to take my dick in my mouth, he asked me to sit on the toilet. Of course I did, he knelt down in front of me, I felt his hand on my thighs, he moved his hands higher and higher, he reached my pussy, which was getting wetter and wetter with each passing moment. He pulled my panties off, moved his head to my crotch and stuck his tongue into my pussy. I was shivering, I was getting more and more excited, I felt the juices oozing out of me and he would lick them off. I knew he enjoyed it a lot. His tongue wandered over my pussy, I began to moan gently with pleasure, these sounds began to turn him more and more. I couldn't take it any longer and said in a hushed voice – Fuck me.
He entered me gently, his dick slowly filled my interior. He probably saw the bliss on my face. He was moving faster and faster. Slow down and accelerate, he knew I was close, but he went out and motioned for me to get up. After a while I felt him very close to me, his touch, his smell. He turned me over and I automatically leaned in, it was like an invitation – step into my bottom. He caressed my tits, pussy and circled around the second hole. I felt his finger stick to it and it was moving side to side. After a while he started to slip his stallion in, I felt a slight pain, but it was pain mixed with pleasure. First, he moved me slowly, steadily, sliding his cock in and out of my ass.
He was doing it faster and faster, I wanted him to fuck me long and hard. I felt the bliss piercing my body. I groaned with excitement. He got out of me, I sat on the shell, lifted my legs up and put his cock up my ass again. The dick entered without any resistance. He fucked me once quickly, once slowly, he was fucking me to the balls. It already turned me on so much that I could not control myself with delight. I wanted him to fuck me as hard as possible, I wanted to feel him deeply. He was playing with my pussy at the same time as he was moving my ass. He caressed the clitoris and pushed his fingers deeper. I felt that he, too, was coming to an end. He cum in my asshole. I squeezed his anal muscles like I wanted to suck all the juices out of his dick. We kissed affectionately and left the restroom to finish our dinner and go to our duties.