Bukkake sex orgy
It has been a long time since we did any home parties with Jolka, so this time, after her persuasion, I became convinced of this idea. Jola took care of inviting a few friends, and I took care of the necessary food, alcohol and muse at the party.
A few people were supposed to drop by. They were not our close friends, they were rather distant acquaintances. We came to the conclusion that we have friends every day, so it's time for some change. Several people were invited, and as a result singles themselves.
The evening of the party came, Jolka looked very tasteful and sexy. I, on the other hand, treated the matter quite loosely, so my outfit did not differ much from what I wear on a daily basis. I played the music, Jolka, with great humor, poured herself a drink before the guests arrived, shaking her sexy butt to the rhythm of the music.
After a while I heard the bell and the first guests were inside. Paweł, Andrzej and Marta came in a group, after a short greeting, they sat down on the couch, putting the alcohol they had brought on the bench. The three of them complimented Jolka's sexy appearance, who could not hide her joy, because which girl does not like compliments?
I heard the doorbell and after a while Sandra, a friend of Jolka's more than mine, was in our apartment, I practically never saw her.
A very attractive chick. I thought, erasing it with my eyes.
– You must be Robert? – it was a statement rather than a question.
-Yes. I replied, and she kissed me on the cheek in greeting.
– Sandra I'm here. She said quietly and directed her steps to the living room, greeting other people.
It was already quite fun in the lounge and the drinks I had barely poured were emptied almost immediately.
We all sat on the couches, drinking drinks and the more alcohol there was, the more casual and spicy conversations there was. At the beginning, Paweł and Andrzej told brave erotic stories and their sex experiences, but after a few drinks even Jolka was more and more brave describing what sexual positions turned her on the most.
It wasn't long before the girls sparkled in sex stories, and the male part seemed to fade away, probably listening not only with curiosity, but also with a little excitement, I think, because it certainly started to move me.
Jolka was looking at my reaction, I think she was a bit afraid that the conversations were too spicy and loose, because we hadn't talked to anyone like that before.
However, seeing that it does not bother me and that the humor does not leave me, she became more and more courageous, but in the end Marta beat everyone by proposing that one of us show the girls a dick. I took it as a joke, but Marta was supported by other girls and more and more insistently demanded to show our birds.
Jolka started to persuade me to do it first. I rejected this idea, turning it into a joke, but she probably became insistent because of the alcohol she had drunk and got to my fly. She unbuttoned it and everyone could see the color of my shorts.
Marta and Sandra decided to do the same to the other guys and after a while the three of us were standing with our pants down. Andrzej's cock stuck out strongly, which was visible through boxers, the whole situation turned him on quite well. Sandra reached into his shorts, massaging his cock through boxers, the laughter stopped and the situation became strange, no one expected such a turn of events.
Marta, it would seem, that the calmest of the three girls pulled Paweł's cock out of her shorts, who at first tried to move away, but Marta's decisive movement paralyzed him and he completely surrendered to her will. Marta took a dick to her mouth and after a while it disappeared completely in her mouth for a long moment.
Jolka squatted in front of my crotch and without any fuss, as if she wanted to make up that she didn't do it first, she quickly pulled my dick out and immediately began to suck it hard and pull it, her tongue also licked my balls.
Marta and Jola sucked our cocks in complete silence, engaging in it, looked at each other. Seeing this, Sandra took off Andrzej's pants and shorts. His cock stuck out in all its glory. Jolka was looking at him, and Sandra at that time took off her clothes completely, she was slim, not big with nice small breasts and a shaved pussy.
Sandra instead of taking care of Andrzej pushed him towards us, she sat down on the couch opposite us, parted her legs and her pussy appeared in all its glory. She watched us in this position for a moment, then reached for her crotch with her hand and began to masturbate. The sight was exciting. We enjoyed the feeling of sucking our cocks and seeing Sandra's pussy showing us her body so provocatively.
Andrzej was standing in front of us a bit lost, he watched as Jolka pulled my dick, how she licked him from top to bottom, occasionally rubbing it against his pretty face.
I saw Jolka sneaking a glance at his dick, and he, a little more confident after a while, approached us a little and started to jerk off his face while looking at Jolka's blowjob.
Jolka, more and more involved in giving me a blowjob, put her hand on his thigh as if for comfort, but I knew she was waiting for a reaction if it would piss me off. I took it calmly. I felt she was drawn to a foreign cock. She wanted to try it, to fulfill her fantasies she had always had. When she saw that I took it calmly, enjoying a long suckling, she took Andrzej's cock in her hand. Her body reacted with great excitement, she slapped his hand while continuing to blow him off. Andrzej moved closer and she had two dicks in front of her mouth.
I took my cock out of her mouth and she grabbed Andrzej's cock, put it all into her mouth, and after a while she licked it thoroughly, brought us closer and after a while she tried to squeeze both cocks into her mouth. I heard her excitement, loud breathing.
While watching this scene, Sandra stopped playing with herself and got up, going up to Marta and Paweł.
– Let's go to them. – she said to Paweł and she took Marta by the hand.
The girls came to the couch and Sandra, slightly surprised, started to undress. Jolka said something about Sandra being bisexual or less but I never took it seriously, and it looked like it.
After a while Marta was lying naked on the couch, surrendering completely to Sandra's will, who licked her pussy and asshole. Marta did not protest, she was stunned and surprised, but after a while she began to groan with pleasure.
Paweł, suddenly put off by Sandra from blowjob, stood by us a bit angry, but also curious, now there were three cocks in front of Jolka's face. Three sticking dicks. Without any fuss, she stopped shoving our two cocks in her mouth and took care of Paweł's cock.
She licked it for a moment, but I could see her horror reaching its zenith. She got up and began to undress herself quickly, seeing that, we also quickly got rid of our clothes.
Jolka leaned against the couch on which Sandra was just licking Marta's asshole and pushed her ass towards us. Nobody flinched, they waited for my reaction. I approached her from behind, put my hand on her pussy, I felt how wet it was even dripping from her, so without further ado I slipped my cock into her cunt from behind. I pushed her steadily and Paweł and Andrzej were standing next to them, pounding their horses. Jolka tried to reach one of the cocks with one hand, but she was too excited. She withdrew her hand, leaning it firmly against the back of the sofa. After a few minutes of fucking I felt I could cum so I got out of her and after a while Paweł was inside her, he was fucking her for a while, but he left quickly. Jolka straightened up, took the blanket lying next to it and threw it on the floor.
"Lie down," she pointed at Andrzej.
She wasn't looking at me anymore, she didn't wait for my reaction, she wanted to take handfuls from the situation. She probably thought that something like this might never happen again.
Andrzej lay down on his back, and she sat on him, sticking his dick into his cunt. We stood looking down on it.
– Put it in my ass. she looked at me.
I stood in the back trying to shove my dick into her other hole. Andrzej stopped and a bit clumsily finally got into her asshole. I felt that she was tighter because of Andrzej's cock puffing up in her pussy. In the end, we managed to move it rhythmically.
The movements weren't that deep, but Jolka was moaning with pleasure. I don't know if it was the excitement of the situation or the feeling of having two cocks put in her holes.
Paweł stood over Jolka's head and pressed her dick in her mouth, now she had three dicks in her. We gently fucked her to keep them in all of her holes, but she was so groaning with delight that I felt I couldn't take long. Paweł was the first to shoot at her face, flooding her face with a sticky liquid.
I quickly got up, leaving her asshole, Jolka got up from Andrzej, to crouch after a while, I looked at her puffy face. Greedily she grabbed my dick in the mouth so that after a while I would shoot a thick sperm right into her mouth. Sperm was leaking from the corners of her mouth and after a while Andrzej, who was beating his horse, shot straight at her face and forehead.
Jolka was full of sperm, running down her face, dripping on her breasts and stomach.
– Then you had the bukkake. I said with a smile.
You can see that she likes sperm on her face, she did not rub it for a long time, only licking sperm lips. Marta and Sandra were sitting on the couch massaging their pussies and watching the whole situation. We completely forgot about them, fucking Jolka in all holes. There was an uncomfortable silence.
– Why don't we eat something? I asked looking for my clothes.
– I'll help you prepare something. Jolka said, wiping sperm from her body with a towel
As ordered, everyone started to dress, although Sandra and Marta probably had some reluctance.
– I think what happened could be a porn movie or some erotic story. – I concluded the evening.
Nobody commented on it, everyone was confused, although Jolka was not fully serving the guests with a smile, it was probably a very successful evening for her.
When we were in the kitchen she asked:
– Why didn't you fuck Sandra and Martha?
 – They were preoccupied with themselves and somehow it turned out. – I replied.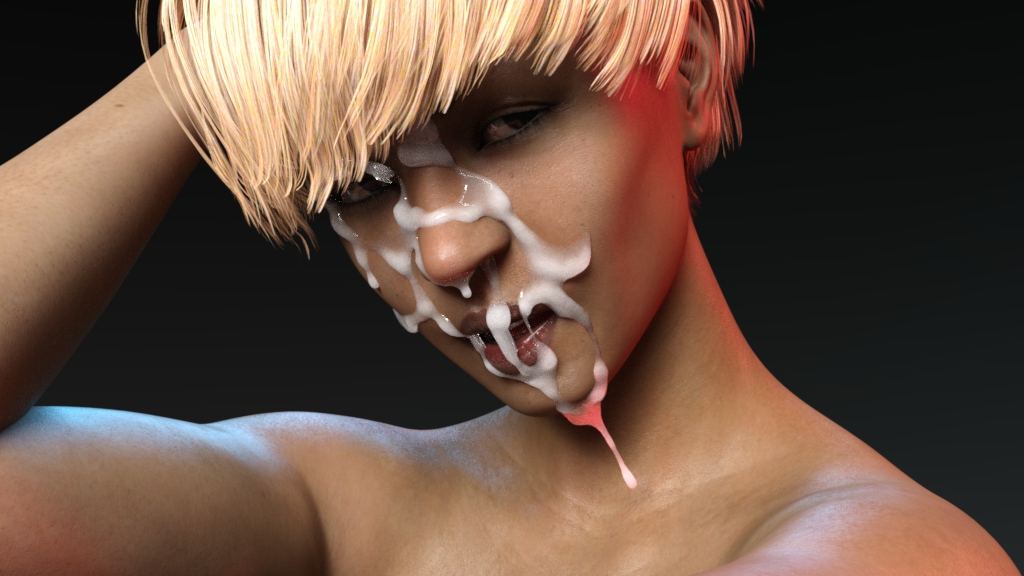 – If I were you, I'd fuck them. – she said.
"You may not have this opportunity anymore, and I think I wanted to see it," she added with a smile.