Sex Stories part 3
After yesterday's shower with Ania, I couldn't concentrate, there was no sex and at the same time there was more than in some of the night games. I decided to call her because I was thinking more and more about her and our very intimate situations.
"Hi, it's me," I said quite confidently.
– Hi Pawełek – she greeted me warmly.
– You're alone? – I asked to be sure, I wanted to move last night.
– Yes, I'm alone. What?
– Nothing, I ask out of curiosity.
– How after yesterday? – fortunately, she started this topic herself.
– Great, I felt very good.
– Me too, I think I'm in love.
– Are you in love? – I asked to be sure.
"Yes," she said cheerfully.
To my surprise, her voice sounded cheerful. I sensed a very good mood in her.
– In whom?
– Do not pretend you do not know.
– I do not know
Various thoughts appeared in my head, for example: "gosh, she fell in love with me."
– Well, I fell in love, he is delicate and cool and very warm – she described it thoughtfully. Do you know who I'm talking about?
"I don't know," I replied, pretending to be naive.
– You really don't know?
– Who?
– Oh, your dick.
Her tone surprised me again, there was no discomfort, as if it were completely natural and normal. She continued.
– He's so cool, gentle hmm … and tough. Especially when washing. I can't stop thinking about him.
– Is that a sex phone? I asked playfully surprised by her confession.
– Hmm … maybe a sex phone, if you take it out and describe it as it is.
– Isn't it better to meet?
Her confession somehow strengthened my self-confidence and the willingness to continue frolic. I believed that he wanted to go beyond certain limits.
– Do you have time today?
– I have! Sure I do. For you always.
– Ok, I'm with you around 9pm. I have to go.
I heard a buzzing noise in the background and realized that she probably wasn't alone in the room anymore. She hung up. I have an hour left, I said to myself, glancing at my watch. What can I expect today? I thought about it, and my cock grew at the very thought of meeting Anna next time.
Visit
After our hot conversation, I was looking forward to Ania's visit, it will probably be an interesting evening. The atmosphere grew hotter and her confessions on the phone excited me greatly.
A few minutes before 9 PM I heard the doorbell, I walked quickly to the door, opening it full width and it bricked me up. Ania was standing on the threshold, but her guy Krzysiek was standing next to him.
– Hi, come on in.
– Hey, Krzysztof finished earlier and we met on the stairs when I was going out to you so we're together.
Ania was explaining with a smile, but I saw that she was cooking inside, it was probably not the evening she planned. Krzysiek, without further ado, immediately asked for alcohol if he should jump for something. I informed that it is not necessary because I have beer and wine, even vodka will be available. Well, that's great, he called, grabbing the remote and switching channels.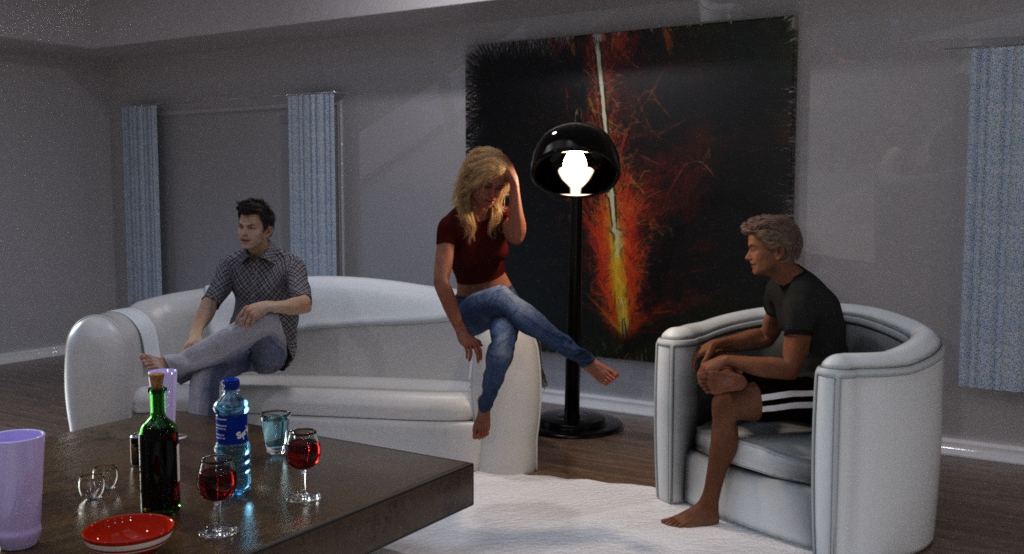 – Did you watch anything? He asked when he saw the anger in Ania's eyes
– No, nothing was going on.
After my answer, he sat back in my large and comfortable armchair. After a while the announcer could be heard. MMA was on the sports channel.
– Can you spray something?
– Sure.
– I'll help you. Ania replied
– And that's what I like. Krzysiek laughed.
Neither face turned red with anger. In the kitchen I pulled out beers and red wine.
– Sorry, I couldn't refuse.
– I understand. You're welcome. – I added seeing her scratch.
I even got a slight smile, but it didn't seem to convince her.
– There'll be something to drink at last?
– Wait! – Ania screamed angrily.
– I'm just kidding, baby.
Without a word I took alcohol and glasses Ania and we went to the living room.
– What would you like to drink?
– Beer, I think beer, because I want to drink, but they are fucking fucking. he said excitedly. Watch.
– Okay, we have no other option. There is only one TV.
– If you do not want to watch, you can talk to each other.
– Thank you for the permission. Ania replied sarcastically and very pissed off.
We poured ourselves wine and instead of watching two guys massacre in a cage, we talked about what had happened to everyone in the last few days, sipping red wine. Krzysiek quickly cleaned two bottles of beer while still watching the sports channel with interest.
– You don't drink too fast?
– I am thirsty.
– Paweł pour us more, as you can see we stand out from this company.
She drank a glass of wine quickly and, as I noticed, the more times she looked at Krzysiek, the faster she drank.
– Any more beer?
In fact, 3 bottles of beer were gone, he was gone quickly, I thought.
– I have more, I'll get it right away.
– Don't give him. – Ania said definitely. Too much of that beer.
– I'm not a kid. – he muttered.
– What in a guy's three beers.
– Ania, after a moment of reflection, said
– You're right, bring him Pawelek if you can.
Without a word, I went to the kitchen bringing 2 beers.
– Thanks. – He replied briefly, still staring at the TV as if it was the most beautiful view in the world, and there just another two guys were pouring on the murders.
Ania had a problem with her computer work, so I suggested how to solve it. Eventually we figured we would go to the other room where I have a computer and explain the problem live.
We left the room, but for the ending Krzysiek, the next beer didn't matter in the slightest, unless he just noticed us if we were fucking here. – I thought angrily.
Ania sat down next to me, and I started showing the solution to the problem.
– Paweł, I already know that.
– Yes? So why should I explain to you?
– And for this.
She reached for my fly. She started stroking my cock through my pants and I felt my penis grow.
– Come on, translate. Too much silence.
I felt a lot of pleasure in this touch, after all I was so horny today after our sex talk. I started to translate, and Ania was concentrating on the activities I was doing on the computer while massaging my dick. I was afraid that I would fire.
"And that's all I could explain!"
– I know it all.
We got up quickly, going back to the room. There were still fights on the TV, but this time for boxing, and Krzysiek was sleeping in the armchair, still holding the remote control in his hand.
– Krzysiek! – Ania said quite loudly
There was no reaction, he didn't wake up, he didn't even flinch.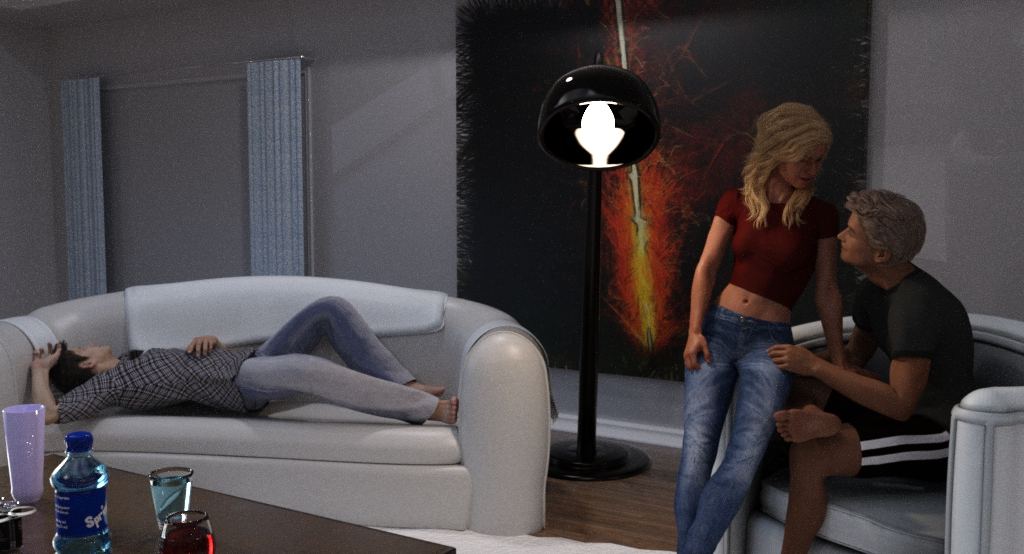 – And he dodged. – she said angrily. – I'll help you clean up, then I'll wake him up and go home.
We went to the kitchen, she stepped back a little looking into the living room and then closed the door.
– I had other plans for today, but I have to do at least this.
She crouched down in front of me, unbuttoning my fly.
– Stop it, I said, slightly nervous. He would wake up, hardly slept.
– I don't care about that and him too. I'm beginning to understand it was a mistake.
After a while she had my dick in her hand, she pulled out her tongue and began to lick his head, lightly touching the skin with her hand. She was gently teasing her head with her tongue, and I stood confused. Ania did not care about it, she played for a few minutes until my dick disappeared in her mouth. It was so nice that I stopped thinking, I felt enormous delight. I looked down watching my dick disappear in her mouth. She looked me straight in the eyes as she continued giving my blowjob.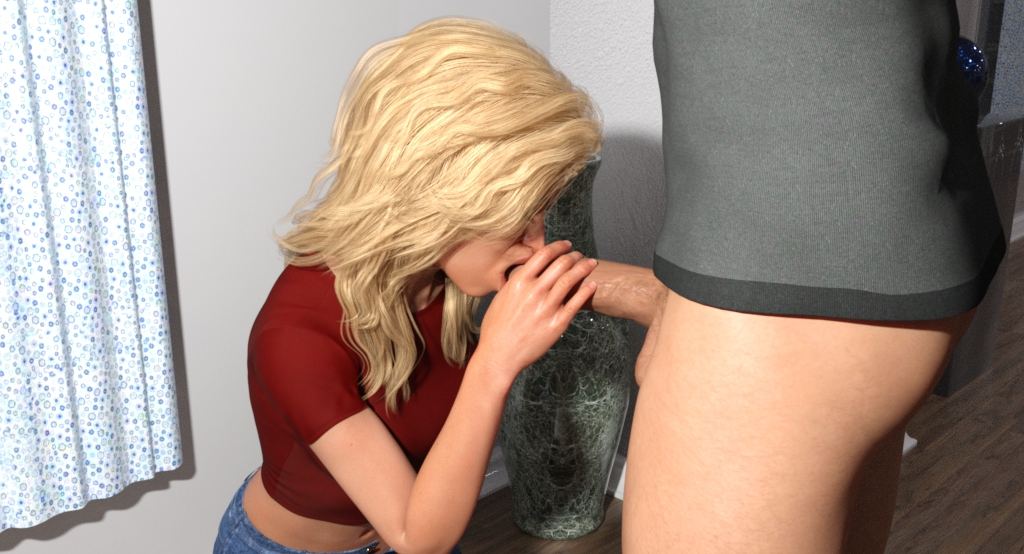 – Cum – she said, taking his cock out of her mouth for a moment.
She did not have to repeat twice, after a while I shot straight into her mouth pressing my cock against her face very tightly. Ania swallowed the sperm and licked the dick from the remnants of the sperm, and finally kissed the head of the still standing penis. She got up slowly and I started to hide my dick, she helped me zip up my pants. After a while we returned to the living room.
– Get up!
– I'm not sleeping.
– We're going home because you're asleep.
– Ok, I'm getting up now.
– Well, we're going. Thanks for the evening. And everything I drank today was very tasty.
– That's great. I will buy more of this wine.
– Great, especially a lot of that white. She replied looking into my eyes.
– White? After all, you drank red.
– You could not sleep, you would not miss the white.
– It's like I drink a lot. – Krzysiek summed up.
– Bye then.
– See you, I'll call you tomorrow …
The sex story continues soon.